Shelby Bach is the author of the Ever Afters series of books.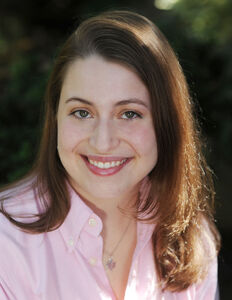 Shelby Bach (born August 28, 1986) is the author of The Ever Afters series of children's novels. Its first
installment, Of Giants and Ice, was published by Simon & Schuster Books for Young Readers in July 2012. The sequel, Of Witches and Wind, was released in July 2013. The third book, Of Sorcery and Snow, was released in June, 2014. The fourth and final book in the series, Of Enemies and Endings, is set to be released June 2015.
Shelby Bach grew up reading every book she could find and writing stories in battered notebooks. She also rarely came home with a clean shirt and had lots of accidents that ended with a hunt for Band-Aids. Nowadays she writes on her laptop rather than in a notebook, but not much else has changed.
Shelby Bach

Born:
August 28, 1986 (age 28)
Occupation:
Writer

Nationality:
American

Education:
Vassar College

Genre:
Children's literature

Website:
shelbybach.com