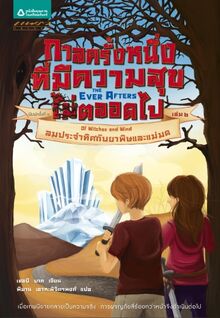 Of Witches and Winds, written by Shelby Bach is the second book os the Ever Afters series. It was published on July 24, 2013.
Synopsis
Edit
In this second novel in a series that Kirkus Reviews calls a "fast-paced combination of middle school realism and fairy-tale fantasy," it's up to Rory to save the Ever After School—and deal with her father's fiancée.
After taking part in a successful real-life fairy tale, Rory Landon is now an Ever After School veteran. She has better friends than she's ever had, and she's stronger, more confident, and ready to take on whatever comes next.
Or so she thought. When a nefarious plan from The Snow Queen threatens the entire Ever After School program, it is up to Rory and Chase to save everyone. Between this new adventure and what is happening at home—where a potential stepmom has entered the picture—Rory wonders if she really has what it takes to come to the rescue.
Parents need to know that the young heroes in Of Witches and Wind: The Ever Afters, Book 2 risk life and limb in battles against villains. Rory, however, is intent on not killing anyone. She continues to deceive her parents about the true nature of Ever After School. She tells them she's spending vacation week at a friend's house, when she's actually going to the magical school. She arranges to visit her father as a pretext to pursue a mission and then runs away to complete her task, causing her parents great anxiety. Main characters describe a mute girl as a "weirdo" and give her the teasing nickname "Chatty." upon a time, there was a story waiting to be told…
Rory Landon has a Destiny. Everyone knows about it, but no one will tell her what it means. This is all very troubling considering the similarities between her and the infamous Snow Queen, trapped in her glass castle. No matter what it turns out to be, Rory is certain about one thing; she doesn't want to be like her. But at the Ever After School program, you cannot choose your Tale. Having been a Companion on her best friend's successful Tale, Rory has finally found her footing in this new world, where fairy tales are real. But when a nefarious plot threatens all her new friends, Rory finds herself back on another quest, this time to the lost continent of Atlantis. With the clock ticking away, and a never-ending cast of characters interrupting them, Rory's destiny might not even matter if she can't get through this alive.
Characters
Edit
-Rory -Chase -Lena -Mia -Ben -Chatty -Kenneth -West Wind -Snow Queen -Director -Ever After School students-Iron Hans- Rapunzel
Community content is available under
CC-BY-SA
unless otherwise noted.